Our Blog
November 11, 2019
If you're planning to sell assets at a loss to offset gains that have been realized during the year, it's important to be aware of the "wash sale" rule.
November 5, 2019

One of the most laborious tasks for small businesses is managing payroll. But it's critical that you not only withhold the right amount of taxes from employees' paychecks but also that you pay them over to the federal government on time.
November 4, 2019
Are you charitably minded and have a significant amount of money in an IRA? If you're age 70½ or older, and don't need the money from required minimum distributions, you may benefit by giving these amounts to charity.
October 15, 2019
As an employer, you must pay federal unemployment (FUTA) tax on amounts up to $7,000 paid to each employee as wages during the calendar year. The rate of tax imposed is 6% but can be reduced by a credit (described below). Most employers end up paying an effective FUTA tax rate of 0.6%. An employer taxed at a 6% rate would pay FUTA tax of $420 for each employee who earned at least $7,000 per year, while an employer taxed at 0.6% pays $42.
October 2, 2019
As we head toward the gift-giving season, you may be considering giving gifts of cash or securities to your loved ones. Taxpayers can transfer substantial amounts free of gift taxes to their children and others each year through the use of the annual federal gift tax exclusion. The amount is adjusted for inflation annually. For 2019, the exclusion is $15,000.
October 1, 2019
Many business owners ask: How can I avoid an IRS audit? The good news is that the odds against being audited are in your favor. In fiscal year 2018, the IRS audited approximately 0.6% of individuals. Businesses, large corporations and high-income individuals are more likely to be audited but, overall, audit rates are historically low.
September 20, 2019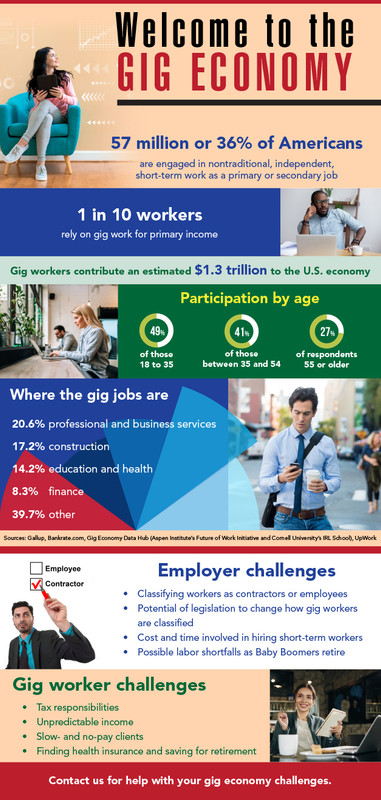 September 19, 2019
We all know the cost of college is expensive. The latest figures from the College Board show that the average annual cost of tuition and fees was $10,230 for in-state students at public four-year universities — and $35,830 for students at private not-for-profit four-year institutions. These amounts don't include room and board, books, supplies, transportation and other expenses that a student may incur.
September 18, 2019
Do you want to withdraw cash from your closely held corporation at a low tax cost? The easiest way is to distribute cash as a dividend. However, a dividend distribution isn't tax-efficient, since it's taxable to you to the extent of your corporation's "earnings and profits." But it's not deductible by the corporation.
September 11, 2019
2019 Q4 tax calendar: Key deadlines for businesses and other employers
September 10, 2019
In addition to the difficult personal issues that divorce entails, several tax concerns need to be addressed to ensure that taxes are kept to a minimum and that important tax-related decisions are properly made. Here are four issues to understand if you are in the process of getting a divorce.
September 5, 2019
September 4, 2019
If you're self-employed and don't have withholding from paychecks, you probably have to make estimated tax payments. These payments must be sent to the IRS on a quarterly basis. The third 2019 estimated tax payment deadline for individuals is Monday, September 16. Even if you do have some withholding from paychecks or payments you receive, you may still have to make estimated payments if you receive other types of income such as Social Security, prizes, rent, interest, and dividends.
August 27, 2019
As teachers head back for a new school year, they often pay for various expenses for which they don't receive reimbursement. Fortunately, they may be able to deduct them on their tax returns. However, there are limits on this special deduction, and some expenses can't be written off.
August 26, 2019
The use of a company vehicle is a valuable fringe benefit for owners and employees of small businesses. This benefit results in tax deductions for the employer as well as tax breaks for the owners and employees using the cars. (And of course, they get the nontax benefits of driving the cars!) Even better, recent tax law changes and IRS rules make the perk more valuable than before.
August 20, 2019
If you're like many people, you've worked hard to accumulate a large nest egg in your traditional IRA (including a SEP-IRA). It's even more critical to carefully plan for withdrawals from these retirement-savings vehicles.
August 19, 2019
Operating a business as an S corporation may provide many advantages, including limited liability for owners and no double taxation (at least at the federal level). Self-employed people may also be able to lower their exposure to Social Security and Medicare taxes if they structure their businesses as S corps for federal tax purposes. But not all businesses are eligible — and with changes under the Tax Cuts and Jobs Act, S corps may not be as appealing as they once were.
August 14, 2019
When a married couple files a joint tax return, each spouse is "jointly and severally" liable for the full amount of tax on the couple's combined income. Therefore, the IRS can come after either spouse to collect the entire tax — not just the part that's attributed to one spouse or the other. This includes any tax deficiency that the IRS assesses after an audit, as well as any penalties and interest. (However, the civil fraud penalty can be imposed only on spouses who've actually committed fraud.)
August 13, 2019
In the past few months, many businesses and employers nationwide have received "no-match" letters from the Social Security Administration (SSA). The purpose of these letters is to alert employers if there's a discrepancy between the agency's files and data reported on W-2 forms, which are given to employees and filed with the IRS. Specifically, they point out that an employee's name and Social Security number (SSN) don't match the government's records.
August 7, 2019
August 6, 2019
If you're lucky enough to be a winner at gambling or the lottery, congratulations! After you celebrate, be ready to deal with the tax consequences of your good fortune.
July 31, 2019
Years ago, Congress enacted the "kiddie tax" rules to prevent parents and grandparents in high tax brackets from shifting income (especially from investments) to children in lower tax brackets. And while the tax caused some families pain in the past, it has gotten worse today. That's because the Tax Cuts and Jobs Act (TCJA) made changes to the kiddie tax by revising the tax rate structure.
July 29, 2019
Working from home has its perks. Not only can you skip the commute, but you also might be eligible to deduct home office expenses on your tax return. Deductions for these expenses can save you a bundle, if you meet the tax law qualifications.
July 25, 2019
The IRS uses Audit Techniques Guides (ATGs) to help IRS examiners get ready for audits. Your business can use the same guides to gain insight into what the IRS is looking for in terms of compliance with tax laws and regulations.
July 24, 2019
You may have heard of the "nanny tax." But even if you don't employ a nanny, it may apply to you. Hiring a housekeeper, gardener or other household employee (who isn't an independent contractor) may make you liable for federal income and other taxes. You may also have state tax obligations.
July 17, 2019
There's good news about the Section 179 depreciation deduction for business property. The election has long provided a tax windfall to businesses, enabling them to claim immediate deductions for qualified assets, instead of taking depreciation deductions over time. And it was increased and expanded by the Tax Cuts and Jobs Act (TCJA).
July 16, 2019
You may have heard about a proposal in Washington to cut the taxes paid on investments by indexing capital gains to inflation. Under the proposal, the purchase price of assets would be adjusted so that no tax is paid on the appreciation due to inflation.
July 10, 2019
If you're considering buying or selling a business — or you're in the process of a merger or acquisition — it's important that both parties report the transaction to the IRS in the same way. Otherwise, you may increase your chances of being audited.
July 9, 2019
If you're a volunteer who works for charity, you may be entitled to some tax breaks if you itemize deductions on your tax return. Unfortunately, they may not amount to as much as you think your generosity is worth.
July 2, 2019
During your working days, you pay Social Security tax in the form of withholding from your salary or self-employment tax. And when you start receiving Social Security benefits, you may be surprised to learn that some of the payments may be taxed.
June 26, 2019
The Tax Cuts and Jobs Act (TCJA) has changed the landscape for business taxpayers. That's because the law introduced a flat 21% federal income tax rate for C corporations. Under prior law, profitable C corporations paid up to 35%.
June 25, 2019
Now that most schools are out for the summer, you might be sending your children to day camp. It's often a significant expense. The good news: You might be eligible for a tax break for the cost.
June 18, 2019
To help defray health care costs, many people now contribute to, or are thinking about setting up, Health Savings Accounts (HSAs). With these accounts, individuals can pay for certain medical expenses on a tax advantaged basis.
June 12, 2019
You've probably seen or heard ads urging you to donate your car to charity. "Make a difference and receive tax savings," one organization states. But donating a vehicle may not result in a big tax deduction — or any deduction at all.
June 11, 2019
Is your business hiring this summer? If the employees come from certain "targeted groups," you may be eligible for the Work Opportunity Tax Credit (WOTC). This includes youth whom you bring in this summer for two or three months. The maximum credit employers can claim is $2,400 to $9,600 for each eligible employee.
June 6, 2019
If federal income tax and employment taxes (including Social Security) are withheld from employees' paychecks and not handed over to the IRS, a harsh penalty can be imposed. To make matters worse, the penalty can be assessed personally against a "responsible individual."
June 5, 2019
When you retire, you may consider moving to another state — say, for the weather or to be closer to your loved ones. Don't forget to factor state and local taxes into the equation. Establishing residency for state tax purposes may be more complicated than it initially appears to be.
June 1, 2019
Due to the massive changes in the Tax Cuts and Jobs Act (TCJA), the 2019 filing season resulted in surprises. Some filers who have gotten a refund in past years wound up owing money. The IRS reports that the number of refunds paid this year is down from last year — and the average refund is lower. As of May 10, 2019, the IRS paid out 101,590,000 refunds averaging $2,868. This compares with 102,582,000 refunds paid out in 2018 with an average amount of $2,940.
May 31, 2019
The IRS just released its audit statistics for the 2018 fiscal year, and fewer taxpayers had their returns examined as compared with prior years. However, even though a small percentage of tax returns are being chosen for audit these days, that will be little consolation if yours is one of them.
May 30, 2019
If you're a business owner and you hire your children (or grandchildren) this summer, you can obtain tax breaks and other nontax benefits. The kids can gain on-the-job experience, save for college and learn how to manage money. And you may be able to:
May 29, 2019
Summer is just around the corner, so you might be thinking about getting some vacation time. If you're self-employed or a business owner, you have a golden opportunity to combine a business trip with a few extra days of vacation and offset some of the cost with a tax deduction. But be careful, or you might not qualify for the write-offs you're expecting.
May 15, 2019
Roth 401(k) accounts have been around for 13 years now. Studies show that more employers are offering them each year. A recent study by the Plan Sponsor Council of America (PSCA) found that Roth 401(k)s are now available at 70% of employer plans, up from 55.6% of plans in 2016.
May 14, 2019
Spring and summer are the optimum seasons for selling a home. And interest rates are currently attractive, so buyers may be out in full force in your area. Freddie Mac reports that the average 30-year fixed mortgage rate was 4.14% during the week of May 2, 2019, while the 15-year mortgage rate was 3.6%. This is down 0.41 and 0.43%, respectively, from a year earlier.
May 9, 2019
If you read the Internal Revenue Code (and you probably don't want to!), you may be surprised to find that most business deductions aren't specifically listed. It doesn't explicitly state that you can deduct office supplies and certain other expenses.
May 8, 2019
It's that time of year when many people who filed their tax returns in April are checking their mail or bank accounts to see if their refunds have landed. According to the IRS, most refunds are issued in less than 21 calendar days. However, it may take longer — and in rare cases, refunds might not come at all.
April 24, 2019
If you're getting a divorce, you know it's a highly stressful time. But if you're a business owner, tax issues can complicate matters even more. Your business ownership interest is one of your biggest personal assets and your marital property will include all or part of it.
April 18, 2019
Once your 2018 tax return has been successfully filed with the IRS, you may still have some questions. Here are brief answers to three questions that we're frequently asked at this time of year.
March 5, 2019
Recent changes to federal tax law and accounting rules could affect whether you decide to lease or buy equipment or other fixed assets. Although there's no universal "right" choice, many businesses that formerly leased assets are now deciding to buy them.
February 27, 2019
Shakespeare's words don't apply just to Julius Caesar; they also apply to calendar-year partnerships, S corporations and limited liability companies (LLCs) treated as partnerships or S corporations for tax purposes. Why? The Ides of March, more commonly known as March 15, is the federal income tax filing deadline for these "pass-through" entities.
February 24, 2019
While the Tax Cuts and Jobs Act (TCJA) reduces most income tax rates and expands some tax breaks, it limits or eliminates several itemized deductions that have been valuable to many individual taxpayers. Here are five deductions you may see shrink or disappear when you file your 2018 income tax return:
February 22, 2019
If you run your business from your home or perform certain functions at home that are related to your business, you might be able to claim a home office deduction against your business income on your 2018 income tax return. Thanks to a tax law change back in 2013, there are now two methods for claiming this deduction: the actual expenses method and the simplified method.
February 13, 2019
When you file your 2018 income tax return, you'll likely find that some big tax law changes affect you — besides the much-discussed tax rate cuts and reduced itemized deductions. For 2018 through 2025, the Tax Cuts and Jobs Act (TCJA) makes significant changes to personal exemptions, standard deductions and the child credit. The degree to which these changes will affect you depends on whether you have dependents and, if so, how many. It also depends on whether you typically itemize deductions.
February 12, 2019
Limited liability company (LLC) members commonly claim that their distributive shares of LLC income — after deducting compensation for services in the form of guaranteed payments — aren't subject to self-employment (SE) tax. But the IRS has been cracking down on LLC members it claims have underreported SE income, with some success in court.
February 5, 2019
The flat 21% federal income tax rate for C corporations under the Tax Cuts and Jobs Act (TCJA) has been great news for these entities and their owners. But some fundamental tax truths for C corporations largely remain the same:
February 1, 2019
As you likely know by now, the Tax Cuts and Jobs Act (TCJA) reduced or eliminated many deductions for individuals. One itemized deduction the TCJA kept intact is for investment interest expense. This is interest on debt used to buy assets held for investment, such as margin debt used to buy securities. But if you have investment interest expense, you can't count on benefiting from the deduction.
January 28, 2019
Commercial buildings and improvements generally are depreciated over 39 years, which essentially means you can deduct a portion of the cost every year over the depreciation period. (Land isn't depreciable.) But special tax breaks that allow deductions to be taken more quickly are available for certain real estate investments.
January 24, 2019
A variety of tax-related limits affecting businesses are annually indexed for inflation, and many have gone up for 2019. Here's a look at some that may affect you and your business.
January 15, 2019
While the Tax Cuts and Jobs Act (TCJA) generally reduced individual tax rates for 2018 through 2025, some taxpayers could see their taxes go up due to reductions or eliminations of certain tax breaks — and, in some cases, due to their filing status. But some may see additional tax savings due to their filing status.
January 10, 2019
There aren't too many things businesses can do after a year ends to reduce tax liability for that year. However, you might be able to pay employee bonuses for 2018 in 2019 and still deduct them on your 2018 tax return. In certain circumstances, businesses can deduct bonuses employees have earned during a tax year if the bonuses are paid within 2½ months after the end of that year (by March 15 for a calendar-year company).
January 8, 2019
While most provisions of the Tax Cuts and Jobs Act (TCJA) went into effect in 2018 and either apply through 2025 or are permanent, there are two major changes under the act for 2019. Here's a closer look.
January 3, 2019
Now that 2019 has begun, there isn't too much you can do to reduce your 2018 income tax liability. But it's smart to begin preparing for filing your 2018 return. Because the Tax Cuts and Jobs Act (TCJA), which was signed into law at the end of 2017, likely will have a major impact on your 2018 taxes, it's a good time to review the most significant provisions impacting individual taxpayers.
December 31, 2018
The dawning of 2019 means the 2018 income tax filing season will soon be upon us. After year end, it's generally too late to take action to reduce 2018 taxes. Business owners may, therefore, want to shift their focus to assessing whether they'll likely owe taxes or get a refund when they file their returns this spring, so they can plan accordingly.
December 27, 2018
Do you have investments outside of tax-advantaged retirement plans? If so, you might still have time to shrink your 2018 tax bill by selling some investments ― you just need to carefully select which investments you sell.
December 19, 2018
Tax planning is a year-round activity, but there are still some year-end strategies you can use to lower your 2018 tax bill. Here are six last-minute tax moves business owners should consider:
December 11, 2018
With the dawn of 2019 on the near horizon, here's a quick list of tax and financial to-dos you should address before 2018 ends
December 7, 2018
There's still time to reduce your 2018 tax bill
December 3, 2018
Prepaying property taxes related to the current year but due the following year has long been one of the most popular and effective year-end tax-planning strategies. But does it still make sense in 2018?
November 29, 2018
The holiday season is a great time for businesses to show their appreciation for employees and customers by giving them gifts or hosting holiday parties. Before you begin shopping or sending out invitations, though, it's a good idea to find out whether the expense is tax deductible and whether it's taxable to the recipient. Here's a brief review of the rules.
November 23, 2018
Under the Tax Cuts and Jobs Act (TCJA), many more businesses are now eligible to use the cash method of accounting for federal tax purposes. The cash method offers greater tax-planning flexibility, allowing some businesses to defer taxable income. Newly eligible businesses should determine whether the cash method would be advantageous and, if so, consider switching methods.
November 21, 2018
Will you be age 50 or older on December 31? Are you still working? Are you already contributing to your 401(k) plan or Savings Incentive Match Plan for Employees (SIMPLE) up to the regular annual limit? Then you may want to make "catch-up" contributions by the end of the year.
November 14, 2018
As we approach the end of 2018, it's a good idea to review the mutual fund holdings in your taxable accounts and take steps to avoid potential tax traps. Here are some tips.
November 13, 2018
If most of your money is tied up in your business, retirement can be a challenge. So if you haven't already set up a tax-advantaged retirement plan, consider doing so this year. There's still time to set one up and make contributions that will be deductible on your 2018 tax return!
November 7, 2018
If you're an executive or other key employee, your employer may offer you a nonqualified deferred compensation (NQDC) plan. As the name suggests, NQDC plans pay employees in the future for services currently performed. The plans allow deferral of the income tax associated with the compensation.
November 6, 2018
The Tax Cuts and Jobs Act (TCJA) has enhanced two depreciation-related breaks that are popular year-end tax planning tools for businesses. To take advantage of these breaks, you must purchase qualifying assets and place them in service by the end of the tax year. That means there's still time to reduce your 2018 tax liability with these breaks, but you need to act soon.
November 2, 2018
A tried-and-true year end tax strategy is to make charitable donations. As long as you itemize and your gift qualifies, you can claim a charitable deduction. But did you know that you can enjoy an additional tax benefit if you donate long-term appreciated stock instead of cash?
October 29, 2018
The Tax Cuts and Jobs Act (TCJA) didn't change the federal tax credit for "increasing research activities," but several TCJA provisions have an indirect impact on the credit. As a result, the research credit may be available to some businesses for the first time.
October 24, 2018
Some of your medical expenses may be tax deductible, but only if you itemize deductions and have enough expenses to exceed the applicable floor for deductibility. With proper planning, you may be able to time controllable medical expenses to your tax advantage. The Tax Cuts and Jobs Act (TCJA) could make bunching such expenses into 2018 beneficial for some taxpayers. At the same time, certain taxpayers who've benefited from the deduction in previous years might no longer benefit because of the TCJA's increase to the standard deduction.
October 23, 2018
You've spent years building your company and now are ready to move on to something else, whether launching a new business, taking advantage of another career opportunity or retiring. Whatever your plans, you want to get the return from your business that you've earned from all of the time and money you've put into it.
October 18, 2018
As we approach the end of the year, it's a good idea to review your business's expenses for deductibility. At the same time, consider whether your business would benefit from accelerating certain expenses into this year.
October 17, 2018
In today's tightening job market, to attract and retain the best employees, small businesses need to offer not only competitive pay, but also appealing fringe benefits. Benefits that are tax-free are especially attractive to employees. Let's take a quick look at some popular options.
October 16, 2018
Many people choose to pass assets to the next generation during life, whether to reduce the size of their taxable estate, to help out family members or simply to see their loved ones enjoy the gifts. If you're considering lifetime gifts, be aware that which assets you give can produce substantially different tax consequences.
October 10, 2018
Section 529 plans are a popular education-funding tool because of tax and other benefits. Two types are available: 1) prepaid tuition plans, and 2) savings plans. And one of these plans got even better under the Tax Cuts and Jobs Act (TCJA).
October 5, 2018
If you're age 70½ or older, you can make direct contributions — up to $100,000 annually — from your IRA to qualified charitable organizations without owing any income tax on the distributions. This break may be especially beneficial now because of Tax Cuts and Jobs Act (TCJA) changes that affect who can benefit from the itemized deduction for charitable donations.
September 28, 2018
For investors, fall is a good time to review year-to-date gains and losses. Not only can it help you assess your financial health, but it also can help you determine whether to buy or sell investments before year end to save taxes. This year, you also need to keep in mind the impact of the Tax Cuts and Jobs Act (TCJA). While the TCJA didn't change long-term capital gains rates, it did change the tax brackets for long-term capital gains and qualified dividends.
September 27, 2018
Tax identity theft may seem like a problem only for individual taxpayers. But, according to the IRS, increasingly businesses are also becoming victims. And identity thieves have become more sophisticated, knowing filing practices, the tax code and the best ways to get valuable data.
September 18, 2018
Does your business reimburse employees' work-related travel expenses? If you do, you know that it can help you attract and retain employees. If you don't, you might want to start, because changes under the Tax Cuts and Jobs Act (TCJA) make such reimbursements even more attractive to employees. Travel reimbursements also come with tax benefits, but only if you follow a method that passes muster with the IRS.
September 12, 2018
Do you own a vacation home? If you both rent it out and use it personally, you might save tax by taking steps to ensure it qualifies as a rental property this year. Vacation home expenses that qualify as rental property expenses aren't subject to the Tax Cuts and Jobs Act's (TCJA's) new limit on the itemized deduction for state and local taxes (SALT) or the lower debt limit for the itemized mortgage interest deduction.
September 11, 2018
Classifying a worker as an independent contractor frees a business from payroll tax liability and allows it to forgo providing overtime pay, unemployment compensation and other employee benefits. It also frees the business from responsibility for withholding income taxes and the worker's share of payroll taxes.
August 29, 2018
If your small business doesn't offer its employees a retirement plan, you may want to consider a SIMPLE IRA. Offering a retirement plan can provide your business with valuable tax deductions and help you attract and retain employees. For a variety of reasons, a SIMPLE IRA can be a particularly appealing option for small businesses. The deadline for setting one up for this year is October 1, 2018.
August 22, 2018
The pieces of tax legislation garnering the most attention these days are the Tax Cuts and Jobs Act (TCJA) signed into law last December and the possible "Tax Reform 2.0" that Congress might pass this fall. But for certain individual taxpayers, what happens with "extenders" legislation is also important.
August 21, 2018
The S corporation business structure offers many advantages, including limited liability for owners and no double taxation (at least at the federal level). But not all businesses are eligible - and, with the new 21% flat income tax rate that now applies to C corporations, S corps may not be quite as attractive as they once were.
August 15, 2018
The Tax Cuts and Jobs Act (TCJA) liberalized the eligibility rules for using the cash method of accounting, making this method — which is simpler than the accrual method — available to more businesses. Now the IRS has provided procedures a small business taxpayer can use to obtain automatic consent to change its method of accounting under the TCJA. If you have the option to use either accounting method, it pays to consider whether switching methods would be beneficial.
August 10, 2018
Converting a traditional IRA to a Roth IRA can provide tax-free growth and tax-free withdrawals in retirement. But what if you convert your traditional IRA — subject to income taxes on all earnings and deductible contributions — and then discover you would have been better off if you hadn't converted it?
August 9, 2018
One of the biggest concerns for family business owners is succession planning — transferring ownership and control of the company to the next generation. Often, the best time tax-wise to start transferring ownership is long before the owner is ready to give up control of the business.
August 8, 2018
Under the Tax Cuts and Jobs Act, employees can no longer claim the home office deduction. If, however, you run a business from your home or are otherwise self-employed and use part of your home for business purposes, the home office deduction may still be available to you.
August 3, 2018
There was talk of repealing the individual alternative minimum tax (AMT) as part of last year's tax reform legislation. A repeal wasn't included in the final version of the Tax Cuts and Jobs Act (TCJA), but the TCJA will reduce the number of taxpayers subject to the AMT.
July 31, 2018
Once upon a time, some parents and grandparents would attempt to save tax by putting investments in the names of their young children or grandchildren in lower income tax brackets. To discourage such strategies, Congress created the "kiddie" tax back in 1986. Since then, this tax has gradually become more far-reaching. Now, under the Tax Cuts and Jobs Act (TCJA), the kiddie tax has become more dangerous than ever.
July 31, 2018
Meal, vehicle and travel expenses are common deductions for businesses. But if you don't properly document these expenses, you could find your deductions denied by the IRS.
July 21, 2018
With its many changes to individual tax rates, brackets and breaks, the Tax Cuts and Jobs Act (TCJA) means taxpayers need to revisit their tax planning strategies. Certain strategies that were once tried-and-true will no longer save or defer tax. But there are some that will hold up for many taxpayers. And they'll be more effective if you begin implementing them this summer, rather than waiting until year end. Take a look at these three ideas, and contact us to discuss what midyear strategies make sense for you.
July 20, 2018
The Tax Cuts and Jobs Act (TCJA) provides a valuable new tax break to noncorporate owners of pass-through entities: a deduction for a portion of qualified business income (QBI). The deduction generally applies to income from sole proprietorships, partnerships, S corporations and, typically, limited liability companies (LLCs). It can equal as much as 20% of QBI. But once taxable income exceeds $315,000 for married couples filing jointly or $157,500 for other filers, a wage limit begins to phase in.
July 19, 2018
Because donations to charity of cash or property generally are tax deductible (if you itemize), it only seems logical that the donation of something even more valuable to you — your time — would also be deductible. Unfortunately, that's not the case.
July 18, 2018
For small businesses, managing payroll can be one of the most arduous tasks. Adding to the burden earlier this year was adjusting income tax withholding based on the new tables issued by the IRS. (Those tables account for changes under the Tax Cuts and Jobs Act.) But it's crucial not only to withhold the appropriate taxes — including both income tax and employment taxes — but also to remit them on time to the federal government.
July 5, 2018
"Going green" at home — whether it's your principal residence or a second home — can reduce your tax bill in addition to your energy bill, all while helping the environment, too. The catch is that, to reap all three benefits, you need to buy and install certain types of renewable energy equipment in the home.
July 3, 2018
You've probably heard about the recent U.S. Supreme Court decision allowing state and local governments to impose sales taxes on more out-of-state online sales. The ruling in South Dakota v. Wayfair, Inc. is welcome news for brick-and-mortar retailers, who felt previous rulings gave an unfair advantage to their online competitors. And state and local governments are pleased to potentially be able to collect more sales tax.
June 29, 2018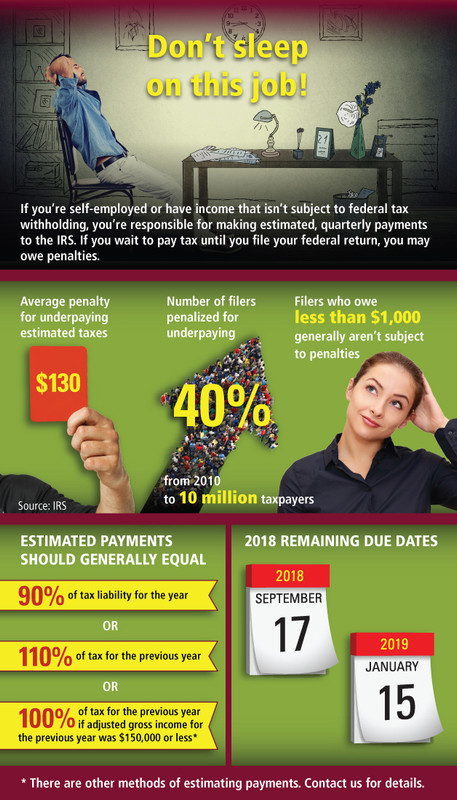 June 28, 2018
There continues to be much uncertainty about the Affordable Care Act and how such uncertainty will impact health care costs. So it's critical to leverage all tax-advantaged ways to fund these expenses, including HSAs, FSAs and HRAs. Here's how to make sense of this alphabet soup of health care accounts.
June 27, 2018
For tax years beginning in 2018 and beyond, the Tax Cuts and Jobs Act (TCJA) created a flat 21% federal income tax rate for C corporations. Under prior law, C corporations were taxed at rates as high as 35%. The TCJA also reduced individual income tax rates, which apply to sole proprietorships and pass-through entities, including partnerships, S corporations, and, typically, limited liability companies (LLCs). The top rate, however, dropped only slightly, from 39.6% to 37%.
June 21, 2018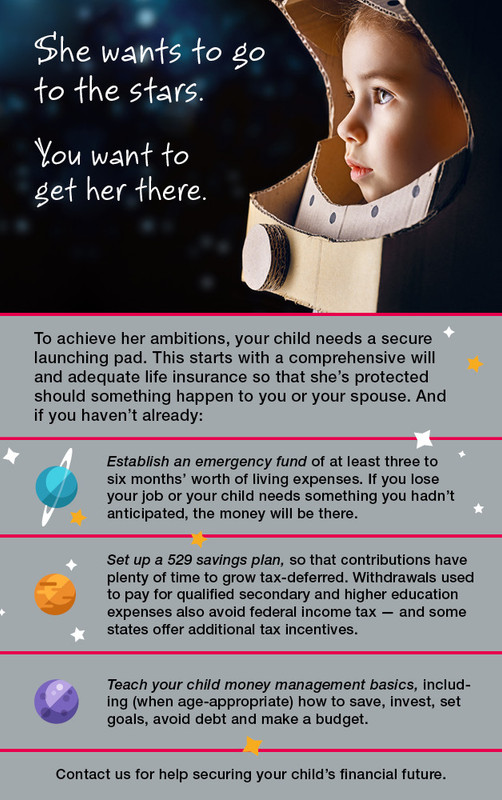 June 20, 2018
While the Tax Cuts and Jobs Act (TCJA) reduced most ordinary-income tax rates for individuals, it didn't change long-term capital gains rates. They remain at 0%, 15% and 20%.
June 15, 2018
When you think about recent tax law changes and your business, you're probably thinking about the new 20% pass-through deduction for qualified business income or the enhancements to depreciation-related breaks. Or you may be contemplating the reduction or elimination of certain business expense deductions. But there are also a couple of recent tax law changes that you need to be aware of if your business sponsors a 401(k) plan.
June 14, 2018
The massive changes the Tax Cuts and Jobs Act (TCJA) made to income taxes have garnered the most attention. But the new law also made major changes to gift and estate taxes. While the TCJA didn't repeal these taxes, it did significantly reduce the number of taxpayers who'll be subject to them, at least for the next several years. Nevertheless, factoring taxes into your estate planning is still important.
June 6, 2018
Today many employees receive stock-based compensation from their employer as part of their compensation and benefits package. The tax consequences of such compensation can be complex — subject to ordinary-income, capital gains, employment and other taxes. But if you receive restricted stock awards, you might have a tax-saving opportunity in the form of the Section 83(b) election.
May 30, 2018
It can be difficult in the current job market for students and recent graduates to find summer or full-time jobs. If you're a business owner with children in this situation, you may be able to provide them with valuable experience and income while generating tax savings for both your business and your family overall.
May 24, 2018
When school lets out, kids participate in a wide variety of summer activities. If one of the activities your child is involved with is day camp, you might be eligible for a tax credit!
May 21, 2018
It's not uncommon for businesses to sometimes generate tax losses. But the losses that can be deducted are limited by tax law in some situations. The Tax Cuts and Jobs Act (TCJA) further restricts the amount of losses that sole proprietors, partners, S corporation shareholders and, typically, limited liability company (LLC) members can currently deduct — beginning in 2018. This could negatively impact owners of start-ups and businesses facing adverse conditions.
May 14, 2018
At this time of year, a summer vacation is on many people's minds. If you travel for business, combining a business trip with a vacation to offset some of the cost with a tax deduction can sound appealing. But tread carefully, or you might not be eligible for the deduction you're expecting.
May 8, 2018
If you received a large refund after filing your 2017 income tax return, you're probably enjoying the influx of cash. But a large refund isn't all positive. It also means you were essentially giving the government an interest-free loan.
May 1, 2018
With the April 17 individual income tax filing deadline behind you (or with your 2017 tax return on the back burner if you filed for an extension), you may be hoping to not think about taxes for the next several months. But for maximum tax savings, now is the time to start tax planning for 2018. It's especially critical to get an early start this year because the Tax Cuts and Jobs Act (TCJA) has substantially changed the tax environment.
April 30, 2018
Now that small businesses and their owners have filed their 2017 income tax returns (or filed for an extension), it's a good time to review some of the provisions of the Tax Cuts and Jobs Act (TCJA) that may significantly impact their taxes for 2018 and beyond. Generally, the changes apply to tax years beginning after December 31, 2017, and are permanent, unless otherwise noted.
April 25, 2018
You may have breathed a sigh of relief after filing your 2017 income tax return (or requesting an extension). But if your office is strewn with reams of paper consisting of years' worth of tax returns, receipts, canceled checks and other financial records (or your computer desktop is filled with a multitude of digital tax-related files), you probably want to get rid of what you can. Follow these retention guidelines as you clean up.
April 16, 2018
The Tax Cuts and Jobs Act (TCJA) includes many changes that affect tax breaks for employee benefits. Among the changes are four negatives and one positive that will impact not only employees but also the businesses providing the benefits.
April 10, 2018
When a company's deductible expenses exceed its income, generally a net operating loss (NOL) occurs. If when filing your 2017 income tax return you found that your business had an NOL, there is an upside: tax benefits. But beware — the Tax Cuts and Jobs Act (TCJA) makes some significant changes to the tax treatment of NOLs.
April 4, 2018
Tax-advantaged retirement plans like IRAs allow your money to grow tax-deferred — or, in the case of Roth accounts, tax-free. The deadline for 2017 contributions is April 17, 2018. Deductible contributions will lower your 2017 tax bill, but even nondeductible contributions can be beneficial.
April 3, 2018
Classifying workers as independent contractors — rather than employees — can save businesses money and provide other benefits. But the IRS is on the lookout for businesses that do this improperly to avoid taxes and employee benefit obligations.
March 28, 2018
Perhaps. It depends on several factors, such as your parent's income and how much financial support you provided. If you qualify for the adult-dependent exemption on your 2017 income tax return, you can deduct up to $4,050 per qualifying adult dependent.
March 27, 2018
Here are some of the key tax-related deadlines affecting businesses and other employers during the second quarter of 2018.
March 20, 2018
Home ownership is a key element of the American dream for many, and the U.S. tax code includes many tax breaks that help support this dream.
March 19, 2018
Normally when appreciated business assets such as real estate are sold, tax is owed on the appreciation. But there's a way to defer this tax: a Section 1031 "like kind" exchange. However, the Tax Cuts and Jobs Act (TCJA) reduces the types of property eligible for this favorable tax treatment.
March 14, 2018
If you suffered damage to your home or personal property last year, you may be able to deduct these "casualty" losses on your 2017 federal income tax return. For 2018 through 2025, however, the Tax Cuts and Jobs Act suspends this deduction except for losses due to an event officially declared a disaster by the President.
March 13, 2018

Repairs to tangible property, such as buildings, machinery, equipment or vehicles, can provide businesses a valuable current tax deduction — as long as the so-called repairs weren't actually "improvements."
March 6, 2018
Whether you're claiming charitable deductions on your 2017 return or planning your donations for 2018, be sure you know how much you're allowed to deduct. Your deduction depends on more than just the actual amount you donate.
March 5, 2018
When it comes to income tax returns, April 15 (actually April 17 this year, because of a weekend and a Washington, D.C., holiday) isn't the only deadline taxpayers need to think about. The federal income tax filing deadline for calendar-year partnerships, S corporations and limited liability companies (LLCs) treated as partnerships or S corporations for tax purposes is March 15.
February 28, 2018

Individuals can deduct some vehicle-related expenses in certain circumstances. Rather than keeping track of the actual costs, you can use a standard mileage rate to compute your deductions.
February 27, 2018

If you purchased qualifying property by December 31, 2017, you may be able to take advantage of Section 179 expensing on your 2017 tax return.
February 22, 2018

If you moved for work-related reasons in 2017, you might be able to deduct some of the costs on your 2017 return — even if you don't itemize deductions.
February 20, 2018
Many businesses hired in 2017, and more are planning to hire in 2018. If you're among them and your hires include members of a "target group," you may be eligible for the Work Opportunity tax credit (WOTC).
February 14, 2018

Whether you had a child in college (or graduate school) last year or were a student yourself, you may be eligible for some valuable tax breaks on your 2017 return.
February 13, 2018
Are you a high-income small-business owner who doesn't currently have a tax-advantaged retirement plan set up for yourself?
February 6, 2018

With rising health care costs, claiming whatever tax breaks related to health care that you can is more important than ever.
February 5, 2018

With bonus depreciation, a business can recover the costs of depreciable property more quickly by claiming additional first-year depreciation for qualified assets.
January 30, 2018
Individual taxpayers who itemize their deductions can deduct either state and local income taxes or state and local sales taxes.
January 29, 2018
Tax credits reduce tax liability dollar-for-dollar, potentially making them more valuable than deductions, which reduce only the amount of income subject to tax.
January 23, 2018
Working from home has become commonplace. But just because you have a home office space doesn't mean you can deduct expenses associated with it. And for 2018, even fewer taxpayers will be eligible for a home office deduction.
January 22, 2018
Along with tax rate reductions and a new deduction for pass-through qualified business income, the new tax law brings the reduction or elimination of tax deductions for certain business expenses.
January 19, 2018
If your business is a limited liability company (LLC) or a limited liability partnership (LLP), you know that these structures offer liability protection and flexibility as well as tax advantages.
January 17, 2018
While many provisions of the Tax Cuts and Jobs Act (TCJA) will save businesses tax, the new law also reduces or eliminates some tax breaks for businesses.
January 16, 2018
Under the Tax Cuts and Jobs Act (TCJA), individual income tax rates generally go down for 2018 through 2025.
January 9, 2018
The IRS has just announced that it will begin accepting 2017 income tax returns on January 29
January 8, 2018
Although the drop of the corporate tax rate from a top rate of 35% to a flat rate of 21% may be one of the most talked about provisions of the Tax Cuts and Jobs Act (TCJA), C corporations aren't the only type of entity significantly benefiting from the new law
January 4, 2018
January 2, 2018
The Tax Cuts and Jobs Act (TCJA) enhances some tax breaks for businesses while reducing or eliminating others. One break it enhances — temporarily — is bonus depreciation.
December 27, 2017
On December 20, Congress completed passage of the Tax Cuts and Jobs Act. The new law means substantial changes for individual taxpayers.
December 26, 2017
The recently passed tax reform bill, commonly referred to as the "Tax Cuts and Jobs Act" (TCJA), is the most expansive federal tax legislation since 1986. It includes a multitude of provisions that will have a major impact on businesses.
December 18, 2017
Many businesses are hosting holiday parties for employees this time of year. It's a great way to reward your staff for their hard work and have a little fun.
December 15, 2017
One way to reduce your 2017 tax bill is to buy a business vehicle by year-end.
December 14, 2017
Charitable giving can be a powerful tax-savings strategy:
Reed and Company is excited to announce the recent launch of our firm's new website. We've been working very hard to enhance our website and give our firm a fresh look. We've also continued to research and identify the latest and greatest technologies to improve the services we provide and ensure we continue to meet your needs.
Take a moment to look around our...